Even if your passion is for travelling the world and your feet are rarely planted in one place for too long, there may come a time when you need the world to hold still. Leaving behind the hectic hustle and bustle of international airports and exciting city destinations certainly does not mean giving up the game. Simply make your next destination one that is centred on tranquillity, rejuvenation and relaxation. The Park Hyatt Mallorca hotel, located on the quieter east coast side of the island, is all this and more.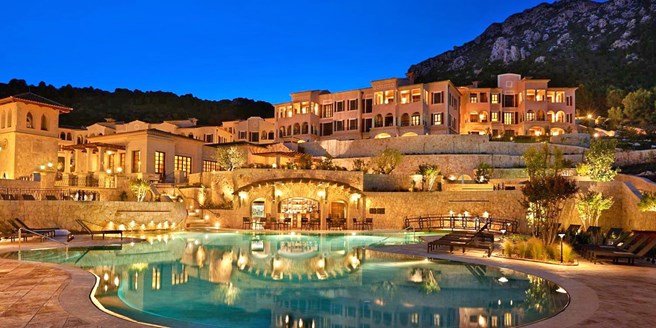 Local Luxury
One of the predominant attributes of this particular resort is that you will quickly forget that it is owned under the umbrella of one of the largest hotel operators in the world. There is nothing generic about the Park Hyatt Mallorca. Having just opened in 2016, the design of the entire resort is refreshingly innovative and authentic. The feel of a traditional Mallorquin hilltop village was created very deliberately, incorporating buildings with warm-coloured facades clustered around outdoor spaces, streams and paths. Every detail, even down to the indigenous flowers grown on the grounds, creates a beautifully effortless sense of grace and elegance.
Complete Care
With 142 rooms, including 16 suites, the total comfort of the guest is the facilities primary goal. Each room is elegantly decorated in neutral colours and leads your gaze out onto either a balcony or terrace with a view that is second to none. Each room is also equipped with:
Plush bedding
Flat-screen satellite TV
Mini-bar
Bathrobes and slippers
Coffee and tea making equipment
Complimentary Wi-Fi
BOSE Bluetooth speakers
24hr room-service
The fact that the spacious rooms also have bathrooms with heated Italian marble flooring, integrated televisions, tropical rain showers and designer toiletries as standard proves that the Park Hyatt Mallorca hotel has left no detail untouched.
Experience
The resort offers a stunning array of amenities on the campus including two pools, a well-equipped workout room and an excellent spa. The Serenitas Spa offers a variety of pampering treatments including manicures, pedicures, massages and facials alongside a sauna, a vitality pool and their signature heated Quartz sand bed.
Dining
Given the resorts' somewhat secluded location it is fortunate that such a plethora of cuisine options are available on site. Just a few of the dining options include:
Balearic – This restaurant prides itself on serving strong regional flavours created with ingredients primarily sourced from farms and fishing ports found along the east coast of Mallorca. Hotel staff will guide you to your table on the terrace for what is sure to be the finest dining in the finest setting. Fine wines and unique cocktails are on hand to compliment the dishes that are fresh and eclectic.
Asia – While the menu takes you on an entirely different tasting adventure, the Asia's dedication to exquisitely made dishes is on par with the resorts other dining facilities. The views are also equally breathtaking!
Home from Home
The Park Hyatt Mallorca hotel is wonderfully located with easy access to a number of area attractions. This 5-star luxury retreat is so much more than just a hotel that the motivation to leave, even on a day's excursion, can be somewhat hard to come by. Kudos must be given for the efforts made towards maintaining the traditional cultural heritage of the island in all of the details. A stay here will do exactly as promised: leave you feeling relaxed, refreshed and invigorated.
Author Plate
John Dixon is an experienced world traveller and the Managing Director of Prestige Holidays. For over 30 years, he has been providing luxury holidays all over the Mediterranean, as well as holidays in Bermuda, Croatia and many other destinations around the globe. John tries to visit each of the destinations regularly in order to ensure the quality of his properties, and as a result is an expert on topics as diverse as
Mallorca hotel
options and Algarve golf courses. He has a taste for the finer things in life and has an interest in arts and history.